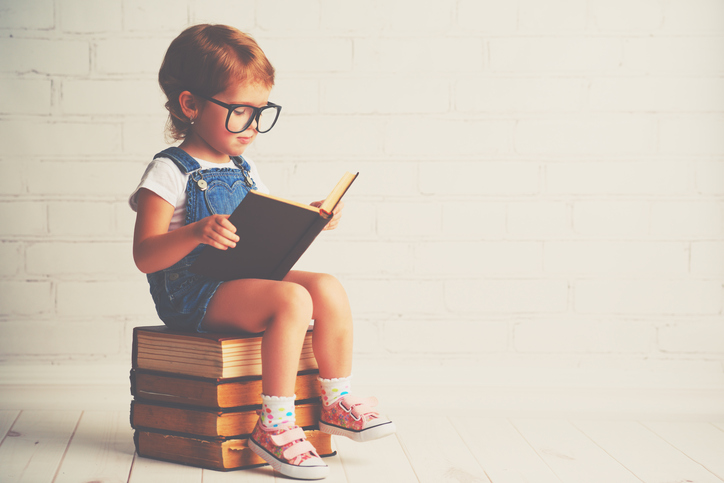 Change can be difficult for all of us, but for children, a large change like getting glasses for the first time can be stressful and nerve-wracking.
"Most children just want to fit in and not stand out from their peers," explained Amanda Thompson, PhD, a pediatric psychologist in Washington, D.C. "Anything that makes them feel different, including something as minor as needing to wear glasses, may impact a young child's confidence."
With increased use of electronic devices (shown to strain eyes at faster rate), more and more children are in need of glasses at a younger age than ever before. To soften this transition to wearing glasses, Dr. Thompson shares these tips for parents:
Normalize the experience of wearing glasses.
Helping children to see glasses as common and "normal" is a great way to make them feel less "different." Read books about characters that wear glasses. Point out people in their life who wear glasses—a classmate, a favorite teacher, their baseball coach.
Involve children in picking out and customizing their glasses.
Let them try on different colors and shapes and have a say in picking their favorite. This helps give them a sense of control and feel more connected to and invested in their new accessory. Glasses become something special to show off, rather than something to keep hidden in their backpack.
Provide lots of positive attention and specific praise for wearing glasses.
Plain and simple: kids respond to positive attention. Providing praise for wearing glasses encourages them to keep at it! Be specific and tell them, "I love when you wear your glasses. You look so smart!" Or, "I'm so glad you are wearing your glasses to do your homework. I'm really proud of you."
Deal with teasing if it occurs.
If your child tells you they are being teased, praise them for letting you know (it can be hard), calmly listen, and validate their feelings. Communicate that teasing is unfair, unkind, and hurtful, and then talk about some ways to deal with teasing if it happens again. Role-playing can be a helpful practice.
Source: www.GlassesUSA.com.
Published with permission from RISMedia.